Slanica court
Slanica court is another part of the complex. It offers accommodation in 6 apartements with the terraces that have view of Orava dam. Every apartment has its own social room and two other rooms.
Apartment rooms are situated on the first floor in the attic. They are 2-bed rooms with the possibility of an extra bed placement. Each room has a very nice view of the near surrounding.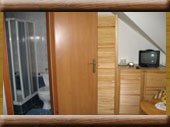 Each room is standardly equipped with the shower box, lavatory and Tv with satellite.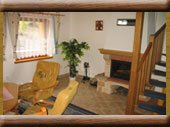 On the ground floor, there is a social room with a fireplace, small kitchen with fridge, mini bar and safe box. The apartments are equipped with phones and internet connectors.